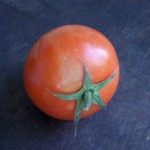 Peeling a tomato is not what I prefer in anyone's kitchen. Tomato's skin has the most minerals and vitamins in all the tomato. But if you need It peeled – here's my way of doing this:
Clean it from the stem.
Cross cut it on the opposite side.
Have in mind, you must not cut too deep or the tomato juices will all go off in the hot pot and leave the tomato dry inside and with bad taste.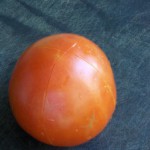 Have its skin cut all the way to the stem.
Have It forked from the stem side.
Put a small container of water on the hot plate.
Wait for it to start boiling at 100 degrees.
Put the forked tomato inside.
Count to 40.
Get it off.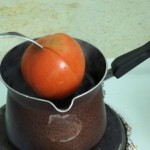 Let it cool a bit. You should really wait or you will malform the tomato if you are in a hurry. It's quite tender when warm.
Peel slowly from the cross section towards the stem.
Leave it to cool completely on some surface.
Use it for whatever you decided "peeled tomatoes" are good.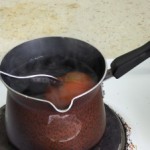 Even if I am to keep all that skin off from the tomato for some reason, I would put it in the boiling water as little as possible. The tomato is quite tender and I don't want squishy salad. (It's still good for Gazpacho soup or a juice though. Don't just throw it away. Remove the stem and put it in the blender to make an excellent tomato juice).
There are two reasons I approve this method for peeling. It's Lycopene. First – Lycopene is one important carotene in the red tomatoes. And It's ability to kill bad cholesterol and actually get rich and with higher concentration in baked and boiled tomatoes is the second.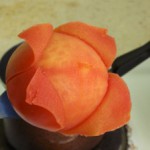 So, If you want to keep healthy – don't mind the tomato's quality and just have it in the dish or in the plate. There are a lot of recipes with peeled tomatoes or with minced/ground ones, even if they are a bit soft.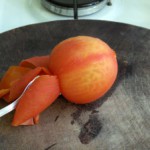 Anyway. If you know better, faster or healthier way – Just let me know.